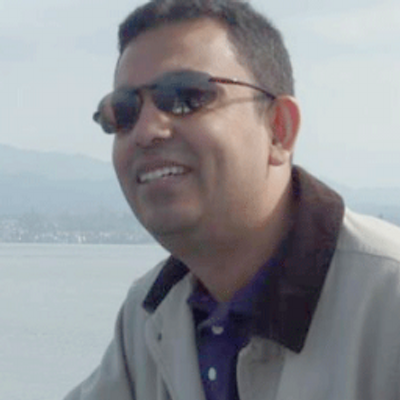 I går hackades författaren och fritänkaren
Avijit Roy
till död med macheter i Dhaka. Roy, amerikansk medborgare med bangladeshiskt ursprung, var författare till flera böcker om vetenskap, skepticism och rationalism. Han var grundare till fritänkarbloggen Mukto Mona och har skrivit några artiklar i
Free Inquiry
. Hans senaste artikel där publiceras i April/Maj-numret och finns redan nu
tillgänglig online
. Artikeln inleds:
On January 7, 2015, the world witnessed a tragic atrocity committed by soldiers of the so-called religion of peace when two masked Islamists armed with assault rifles entered the offices of Charlie Hebdo (a French satirical weekly newspaper) and killed twelve people, including two police officers, three cartoonists, and seven journalists. The gunmen were heard shouting "Allahu Akbar" ("God is great" in Arabic) and "We have avenged the Prophet Muhammad." A mere three weeks before, on December 16, 2014, nine gunmen affiliated with the Pakistani Taliban conducted a terrorist attack in Peshawar, Pakistan. They entered a school, opened fire, and killed 145 people, 132 of whom were schoolchildren.
To me, such religious extremism is like a highly contagious virus. My own recent experiences in this regard verify the horrific reality that such religious extremism is a "virus of faith."
It all started with a book. A national book fair (popularly known as the Ekushey Book Fair) is held every February in Bangladesh. Newly published books are displayed in more than five hundred stalls. Literally thousands of people come to the fair every day and enjoy buying new books. Publishers start preparing for this event quite early as they try to get their books ready for the frenzy of the fair. One of my recent publishers, Jagriti Prakashani, timed the publication of my book Biswasher Virus (Bengali for The Virus of Faith) to coincide with the book fair of 2014.
As soon as the book was released, it rose to the top of the fair's best-seller list. At the same time, it hit the cranial nerve of Islamic fundamentalists. The death threats started flowing to my e-mail inbox on a regular basis. I suddenly found myself a target of militant Islamists and terrorists. A well-known extremist by the name of Farabi Shafiur Rahman openly issued death threats to me through his numerous Facebook statuses. In one widely circulated status, Rahman wrote, "Avijit Roy lives in America and so, it is not possible to kill him right now. But he will be murdered when he comes back."
I går blev hoten verklighet och Roy mördades på väg från samma bokmässa, där hans senaste bok lanserats. Hans fru skadades samtidigt allvarligt av mördarna. Läs om den blodiga attacken i
the Guardian
.
Avijit Roy bidrog när International Humanist and Ethical Union uppmärksammade mord på, överfall och fängslande av bloggare i
Bangladesh 2013
. IHEU:s kommunikationschef
Bob Churchill
kommenterar Roys tragiska död:
This loss is keenly felt by freethinkers and humanists in South Asia and around the world. He was a colleague in humanism and a friend to all who respect human rights, freedom, and the light of reason. Our thoughts are with his family, and his many friends, supporters, and admirers who will be deeply hurt by this senseless crime.
We cannot know the assailants who carried out tonight's vicious murder. But we do know this: Those who have openly made the most serious and credible threats on Roy's life have been allowed to do so with impunity and now he is dead. As Roy himself warned, Bangladesh is appeasing the most insidious and violent strains of Islamism, and he new his own life was under threat. That appeasement of theocratic demands and naked threats must end, now.
IHEU skriver mer om bakgrunden
och har kommentarer från band andra
Asif Mohiuddin
:
He was like my brother. This a great loss for the nation, and for all freethinkers in the world. We called him Richard Dawkins of Bangladesh. He was the nicest person I ever met. Just yesterday he wished me well on my birthday, today he is dead. I can't believe this! He was my dearest friend and we worked together for 6 years against religious fundamentalism.