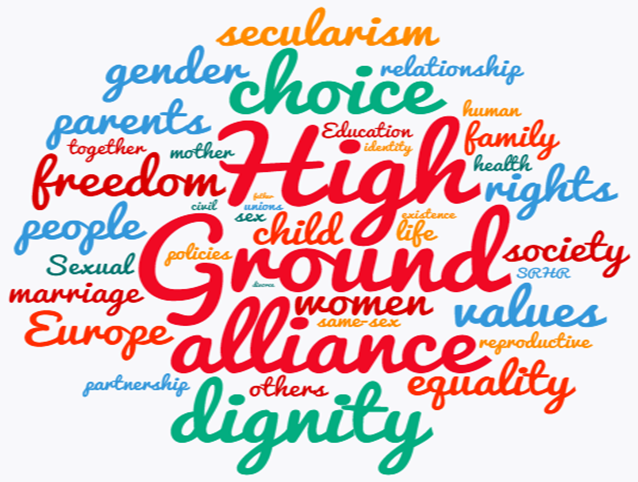 Who we are
High Ground – the alliance for choice and dignity in Europe, is an alliance of six international NGOs all working in Europe. Each NGO has some of the strongest credentials in its own field, and is a trusted partner for numerous national and European elected representatives, policy-makers, and institutions. Currently, our members are:
Our positions and statements are usually made on behalf of all our member organisations. In addition to our members' independent work, the platform is funded by a grant from the Open Society Foundations.
What we stand for
Our vision is for all people in Europe to be equally valued for who they are. In that Europe, being free and able to make one's own decisions on how to live and conduct our own lives is essential to build a happier, healthier, stronger and more just society. We understand, in line with international law, that human rights are
universal and indivisible;
this means that the human rights of one group cannot be used to undermine the rights of others. Human rights are always complementary, and a fair balance must be struck between the rights of all in a rich and diverse society. When it comes to
sexual and reproductive health and rights
, this means that women and men must be able to make effective choices about their reproductive health, to choose to reproduce or not reproduce as and when they wish – this includes universal access to safe abortion. They must also be able to learn about sexuality and reproductive health in a way that is appropriate to their age. When it comes to
the human rights of LGBTI people
, this means that lesbian, gay, bisexual, transgender and intersex people must see their rights respected in the fields of education, employment, family, free movement in Europe, and health. When it comes to
secularism
, this means that states, European institutions and public policies must be neutral on issues of religion or belief, and that all individuals – whether believers or non-believers – must see their right to freedom of religion or belief respected.